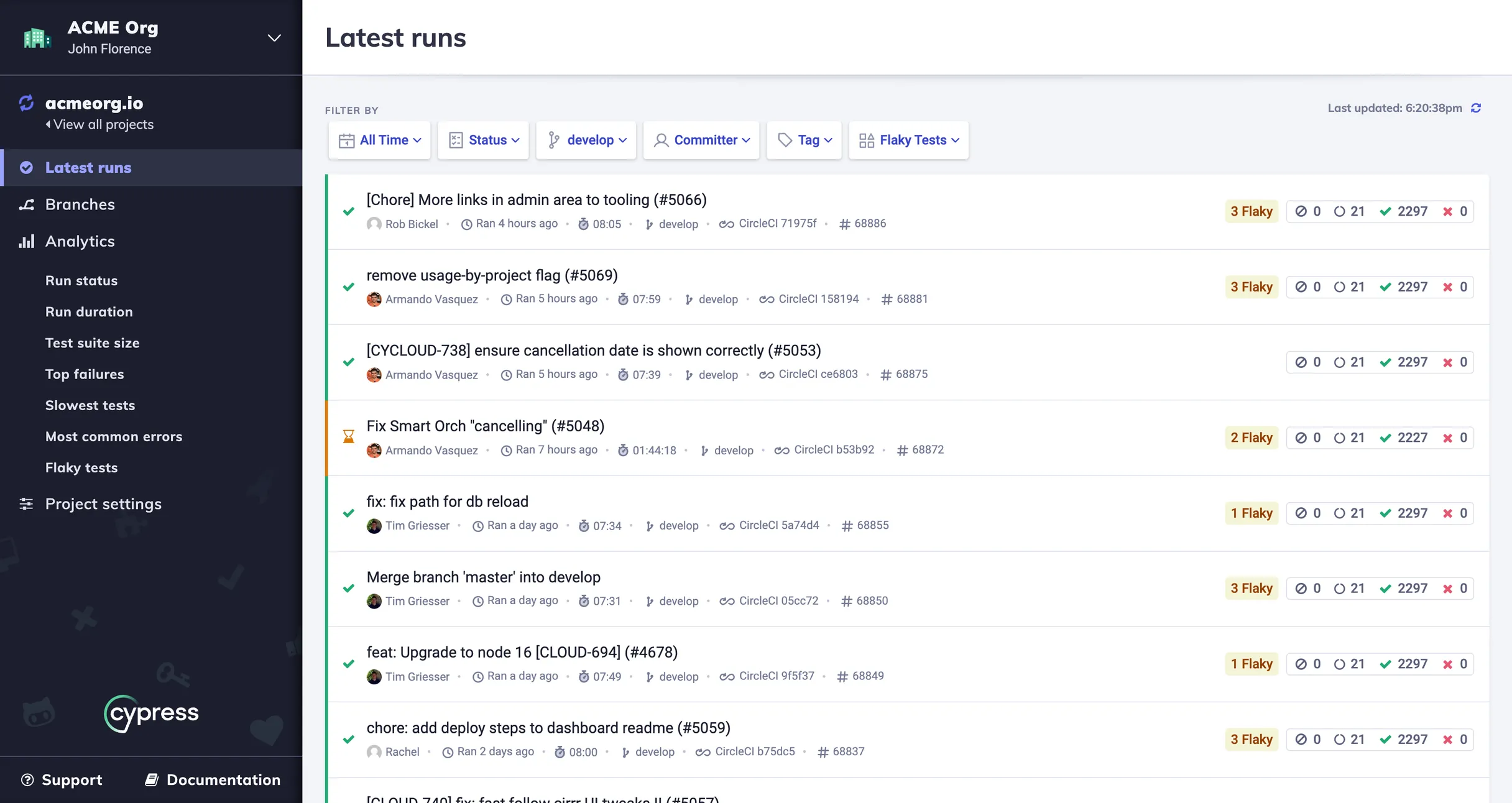 Cypress Dashboard
Collaborate on your Cypress test suite in the cloud
Product management
Design
Development
Responsibilities
I was an early hire at Cypress — employee #11. Given the early stage of the company, I wore many, many hats throughout my tenure. While I was originally hired as a product designer, I quickly started coding again to implement the designs I produced. You can learn more about my first few days at Cypress in my new hire post on the Cypress blog .
I continued this trend across the years: spending some days designing, some days interviewing customers, others performing deep data analysis, others still in managing the team backlog and priorities. I eventually transitioned fully into a product management role to better match the work I was doing.
Some highlights from my time in this role include:
Oversaw the launch of significant new features that allowed us to increase YOY revenue by 126% in 2020.
Increased NPS score of paid customers to 72 by releasing highly-demanded features while fixing common pain points.
Maintained intense customer focus by listening to users daily, either via conducting interviews, reviewing support tickets, or analyzing usage data.
Introduced product management software to turn user insights, stakeholder needs, and prioritization information into an easy-to-read roadmap.
Helped grow Dashboard team from one to five engineers. Managed Dashboard engineers while continuing to bring on engineering leadership. Focused on servant leadership model to help team feel empowered and successful.
Go-to-markets
The Cypress company started as an open-source project before adding a SaaS product to their portfolio. We initially had a dev-centric approach for launching software: ship the instant the PR is ready and add a line to the changelog.
As we matured our product management practices, we worked with our product marketing team to introduce a modern go-to-market approach. You can find a few of the GtMs that I led below:
Data analysis
The Cypress Dashboard is a data-heavy product. Designing new functionality often required exploratory data analysis and modeling of possible solutions. Some of those analysis are available on ObservableHQ: